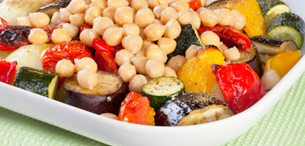 You probably know that vegetarian means meat-free. But what about vegan? Or macrobiotic? Which ones ban beer, again? There are a lot of buzzwords out there, and keeping different diets straight can be confusing. We've got a cheat sheet.
Most people follow one of these diets for health or environmental reasons. Some people give up meat to help lower their cholesterol; others just want to reduce their carbon footprints (since meat production can be highly polluting). As for giving up flour—or all types of dairy!—here's the scoop:
Vegetarian
The bottom line of vegetarianism: no meat. Vegetarians focus on vegetables, fruits, and grains, plus beans and dairy for protein.
Vegan
Vegans give up not just meat but all animal products. That means no eggs, no milk, no cheese, and usually no leather when it comes to clothes and shoes. Fortunately there are a lot of products on the market that replace regular dairy, like soy or almond milk, egg substitutes, and tofu.
Pescatarian
Sound like a fake category? Pescatarian is a term that has come about to describe vegetarians who give up meat but eat fish.
Macrobiotic
The most complicated of these diets, macrobiotic is based on an Asian idea of balance. A macrobiotic diet can vary from person to person, but it focuses on whole grains, vegetables, seaweed, fruit, and beans. It's important to keep foods as natural as possible when cooking; over-processed foods are out. Most people who follow a macrobiotic diet eliminate meat, dairy, caffeine, alcohol, and refined sugar.
Gluten-Free
Gluten is a protein found in wheat, barley, and rye, which means it's in a lot of things you eat. Anything with flour—like bread, cake, cookies, crackers, and cereal, for starters. And beer, made with barley, is a no-no, too. People with celiac disease have an immune reaction to gluten that causes damage to the intestine, so a gluten-free diet is life-changing. Other people with wheat allergies may also follow a gluten-free diet and use alternative flours like coconut and rice flours.
Regardless of your nutrition questions, we're here to help!  We can assist in helping you make sure your diet contributes to your ideal oral health.  Just ask.
Call us today to make your appointment!  (954) 566-5428
From Dr. Heider and The Whitening team at Ultimate Smile Dental, Ft. Lauderdale, Florida.