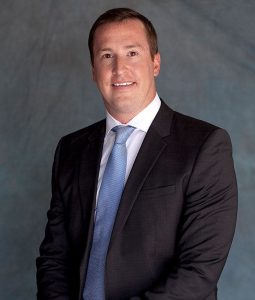 Robert M. Wagner, DMD
Dr. Wagner graduated from Florida Atlantic University in May 2004 with honors and as a member of the National Society of Collegiate Scholars. In 2008, he completed his DMD at Nova Southeastern University in Fort Lauderdale, Florida. Before practicing in Fort Lauderdale, Dr. Wagner applied his skills and knowledge while working in the Florida Keys and Boynton Beach, Florida. Today, he is a member of the American Dental Association, the Florida Dental Association, the Academy of General Dentistry, the Academy of Cosmetic Dentistry, the Intracoastal Study Club-Fort Lauderdale, and the Seattle Study Club.
Dr. Wagner strives to grow in dentistry through ongoing continuing education courses and professional memberships. He has received his Invisalign® certification and has studied under Dr. Frank Spears. As a dentist, Dr. Wagner strives to provide each patient with the highest quality of care by using the latest dental technology and creating a relaxed environment.
Born and raised in South Florida, Dr. Wagner enjoys being able to give back to the community that helped him get to where he is today. When he is not working, Dr. Wagner enjoys a variety of activities, including traveling, fishing, scuba diving, exercising, playing sports, attending concerts, and volunteering.
Meet Our Team
Our professional, caring dental team is devoted to helping you maintain good oral health and enjoy a beautiful smile throughout your entire life. We strive to maintain a warm, welcoming atmosphere at our practice, and feature the latest dental technology to ensure that your treatments are comfortable and that our office runs smoothly. Whether you need a cosmetic treatment or a dental cleaning, we offer high-quality dentistry to meet your needs. We are eager to care for your smile!
Debbie – Certified Dental Assistant
Debbie has been working in dentistry since 1983. She is not only a certified dental assistant, but also an Expanded Functions Dental Assistant, which makes her an excellent addition to our team. Her experience helps her to provide high-quality dental care to our patients. Debbie has been happily married to her husband, John, for over 25 years. She has a daughter, Emily, and she is a puppy momma to their rescue dog, Misty. In her free time, Debbie enjoys going to the beach, cooking, and spending time with her family. She is also a Disney fanatic!
Tiffany – Registered Dental Hygienist
Tiffany received her bachelor's degree from Florida Atlantic University. She then received her associate degree in dental hygiene with honors in 2012 from Sanford Brown Institute and received 100% on her Board exam. Tiffany's experience and knowledge helps her patients feel comfortable and relaxed while receiving professional, friendly dental care. Tiffany is a mom to 2 Chihuahuas, Frankie and Pudge. She is an animal lover who enjoys beach days and standup paddle boarding.
Geri – Office Administrator
Geri has been in the dental field for over 40 years, having 28 years of clinical experience. In addition to being our Office Administrator, she is a Certified Dental Assistant and an Expanded Functions Dental Assistant. She is a graduate of both the Miami Dade College and Broward County dental assisting programs. Geri joined our team more than a decade ago and has always been an asset to our practice, forming lasting relationships with our patients. She works hard to make sure that each patient has an enjoyable experience and is happy with every aspect of their visit. She keeps our office running smoothly and is always available to listen to our patients' questions and concerns. Geri is also happy to assist our patients with all of their insurance needs. She loves animals, and in her spare time, she enjoys reading and dancing.